David G. McBain, CAA, AT/L-Ret.
Director of Athletics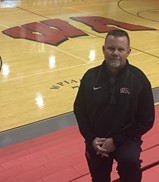 The West Allegheny Athletic Department is under the direction of Mr. David McBain, who began his tenure with the Indians in the fall of 2000. During his term, the athletic teams have flourished and added programs and services to better meet the needs of our student-athletes. The success of the teams has been a constant source of pride that he shares with the staff and community as a whole. Winners of multiple section, WPIAL and PIAA titles has been the hallmark of the department's success.
A five time winner of the prestigious WPIAL / PIAA Sportsmanship Award tells fans and visitors that good sportsmanship is the expectation at all times and those teams and athletes who represent West A conduct themselves in a positive light.
A veteran of the athletic arena, McBain, who received his Certified Athletic Administrator designation in 2003, has spent his entire career working with students in an educational setting. He recently retired as a Certified & Licensed Athletic Trainer after 28 years in the profession. Starting at his alma mater Robert Morris University, he was hired after graduating in December of 1986 to be the assistant athletic trainer. McBain then moved on to the Montour School District in the summer of 1988 where he spent 12+ years and began the school's first sports medicine program. His last four years with the Spartans also were as Assistant Athletic Director where he began to use his Sports Management degree from RMU. While at Montour, McBain also was a seasonal assistant athletic training volunteer for the Pittsburgh Steelers working at mini-camps, training camps and three days a week during the season and post-season from 1992-2000. His medical background also has aided families in the West Hills area over the years as he was a volunteer Emergency Medical Technician with Valley Ambulance Authority based in Moon Township.
Having McBain at West Allegheny has allowed the district to have a voice in local and state actions that directly involve our student-athletes. He chairs the WPIAL Sports Medicine Advisory Committee, is a committee member of the PIAA Sports Medicine Advisory Committee, as well as, past chairman of  the WPIAL Softball Committee, past President of the Midwestern Athletic Conference, and past President of the South West Conference, which serves our middle school student-athletes. He is the past-president of the WPIAL Athletic Directors Association and is a current elected member of the WPIAL Board of Directors. A Pennsylvania State Athletic Director Association – "Athletic Director of the Year – Region IV" recipient in 2008 was followed with his being elevated to that organization's Executive Council in 2013 with his tenure ending in 2018.